Good morning from a wet and windy Foxford. Looking like a rough weekend ahead, it certainly has got colder. I don't think we will be fishing this weekend.  No major news from Foxford, all's quiet and peaceful. The Mayfly hotel was purchased by a local family and is been refurbished at the moment. It should be up and running for next season and will put some life back in the center of the town which can only be positive. Still a few salmon splashing about just above the town, we wouldn't normally see them there at this time of year. It could be some late run fish.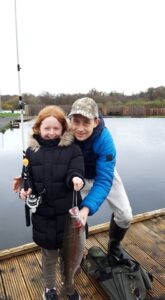 Every dog has his day
I had a nice surprise last weekend. Mike and I took Freya, my granddaughter, to Birchwood fishery. This was something we decided to do a few weeks ago after having a nice day there with some friends. We had spotted that they have a bait lake where young people or novices have a better than average chance of hooking a fish, nothings guaranteed when it comes to fish. I didn't want to get in the way of a father and daughter enjoying time together so I took a four-hour ticket on the specimen lake and went for a few quiet hours by myself. It wasn't long before Freya and Mike came to report their success and Freya proudly showed me her first rainbow trout, a happy little girl.  I myself was having reasonable sport and we were all happy. After about two hours I netted a good-sized Rainbow. Just as I prepared to release it, I noticed a little tag in its dorsal fin. Yep, I had caught one of the tagged fish. In Birchwood they release a certain number of tagged fish, if you are lucky enough to catch one you win a prize. I slipped the tag in my pocket and fished on. In the afternoon I went to the office where I handed in my tag, only to be told it was worth 100 pounds, Happy days. It was a nice spin home, Freya talked about her fish and I talked about my big win, poor Mike had to listen…
Where can I fish on the Moy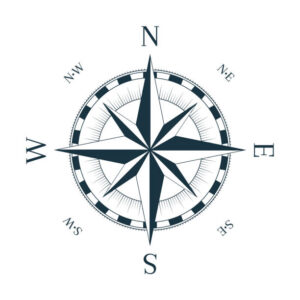 Many anglers who arrive at the shop wishing to fish on the Moy are confused as to where they can or cannot fish or who they need to contact or where they pay. I've been asked to put something up here about the various fisheries on the Moy so at the risk of boring those who know the system here's a bit I did before. I will do this over three weeks so the blog is not all about fisheries. Next week I will add in a little bit about some of the better Fly patterns to use , sizes and when to use them.
 Fisheries on the Moy Part 1
The River Moy rises in the Ox Mountains in Co. Sligo, meandering through Foxford and on to Ballina it flows some 64 miles before entering the sea at Killala Bay. The river is divided into 15 different Fisheries each owned or controlled by different individuals or Clubs. Most of these Fisheries let fishing on a daily or weekly basis. Making the decision on which fishery to choose will depend on a few factors, the type or method of fishing preferred, the time of season and of course the weather and water conditions. The following information about the various parts of the river will help in making the correct decision.
To make it simple we will divide the river into 3 parts. (1) The upper Moy which will take in everything upstream of Foxford town. This will also include the Lake River, which is the 1km outflow from Loughs Conn and Cullen.
(2) The middle Moy: From Foxford heading Downstream (North) to Mount Falcon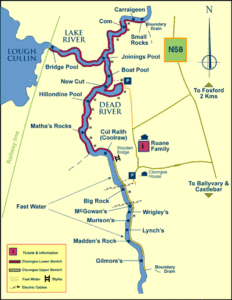 (3) The Lower Moy: From Mount falcon heading downstream to Ballina and including Ballina Salmon anglers water, the famous Moy Fishery Ridge pool & Cathedral beats.
As already mentioned, the river is divided into several different fisheries and there are many miles of water especially in the upper reaches which I cannot say with certainty just who owns the fishing rights. In reality on a trip from source to sea the first properly managed fishery we encounter is the East Mayo Anglers Association waters. Based in Swinford The Association manages some 14.5KM of double bank fishing on the Moy offering a variety of stretches suitable for bait and fly fishing. One of the better Springtime fisheries on the Moy the Association's water incorporates some very nice Fly water some of which are "Fly only".  There's plenty of water for bait and spin as well but anglers are well advised to be aware that prawn and shrimp are strictly forbidden. One small drawback on this part of the river is that it's upstream of the Loughs and thus it is in the "Spate" zone and can suffer from a lack of water in good weather.  East Mayo Anglers Association waters is quite a mouthful so most Anglers shorten this title to "East Mayo". The fishery starts at Cloongulan Bridge on the N.26 between Foxford and Swinford and ends at the Cloongee Fishery. The Association itself is progressive and has done a lot of work on improving parking and access to the fishery. In 2019 they dedicated a very productive stretch of the fishery to disabled anglers and have a wheelchair accessible Platform. Also, in 2019 they published a very useful guide to the fishery. The guide is sold locally and also on our website for five euro, all monies received go directly to the association. For the last number of years the day permit price has been €35.00, this is subject to change. Permits are available from our shop. Anglers are not permitted to start fishing before 8am.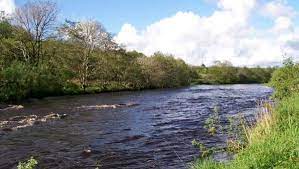 The next fishery we meet is the Cloongee Fishery. Now in state ownership and managed by the Moy Fisheries the Clongee fishery was in former years this was known as "McGowan's waters". Although it was actually owned by others, Mike McGowan a tall strong, friendly man who himself was a very good angler and even better story teller was the water keeper on the fishery.  Mike lived in a cottage close to the fishery and was known to anglers far and wide. He was such a part of the fishery, that The Fishery became known as "McGowan's Waters". Even today some of the older visitors refer to it as such.  The Fishery consists of over 4.5KM of both double and single bank stretches. It is situated 2KM South of Foxford off the N58 Foxford to Castlebar Road. Permits are available from the 1 February with Multiple Day permits available from the 16th April to the end of season. *½ Day permits are available for the period 16 April to 31 July only. [½ Day 6am to 2pm or 2pm to dark] Permits must be purchased before attending to fish and are available from our shop. Overall, it is a good fishery which fishes well throughout the season. Part of the reason for this is that part of it is upstream of the joining's and part downstream. This is a big plus for the fishery when water levels are high. The upper part is shallower and the lower is considerably deeper, which "Holds" a lot of fish throughout the summer months. The fishery has a little bit of water that is suitable for the fly rod but is better known as place where Bubble & fly can work very well especially in the upper parts. One major drawback to the fishery is that on the lower part, from a point known locally as the dead river the banks are not in very god condition and in parts are dangerous. This part of the fishery would certainly benefit from some work to improve access. One of the better-known pools at the lower end of the fishery "Carraigeen" is shared with Foxford Salmon Anglers. Cloongee having fishing on the right-hand bank and F.S.A the Left bank. In general this does not cause any major problems with anglers using etiquette while fishing opposite each other.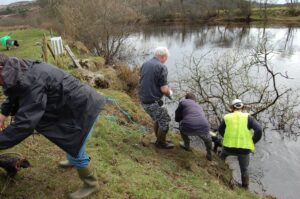 Continuing downstream from Cloongee we meet the first fishery managed by Foxford Salmon Anglers "Bakers".  Baker's fishery is named after the former owner "Mr. Baker". The fishery is now in state ownership and is leased to the Foxford salmon angler's association (F.S.A) F.S.A is the local salmon angling club in Foxford which was founded sometime in the 1950s.  The fishery consists of approx. 1.5km of double bank fishing extending North from the end of the Cloongee fishery to 400m south of the Bridge in Foxford. This also includes a short stretch called Leckee which some years ago was a separate fishery. With the exception of a 200m stretch upstream of Foxford at a place known locally as Culass and the pool already mentioned in the Cloongee piece "Carigeen" the fishery comprises relatively deep channel.  It is primarily suitable for bait and spin fishing and the association do permit prawn and Shrimp fishing. Some of the better-known pools are "Jossie's", "Johny Henrys", "The Alders", "The Fly pool" and "Carraigeen". Baker's fishes well throughout the season with Carraigeen been one of the better spring pools. Josie's is another pool well worth a try from March on. Other parts of the fishery are worth trying but due to bankside vegetation fishing can be difficult. Ongoing work to improve angling is continuing. Access to Bakers is from lane ways of the main street in Foxford or from the association's car park on the left bank approx. 1 km upstream of Foxford.  Over the past few seasons F.S.A have operated a policy whereby anglers who purchase a permit for the Rinnanney fishery can fish the Bakers Fishery and vice a versa which makes their fishing good value for money. Day permits available from our shop were €20.00 in 2021, this is likely to increase for the coming season.
To summarise: East Mayo is upstream of Foxford. A good spring Fishery with some beautiful fly water. Not ideal in low water conditions. Good parking and access.
Cloongee:  Is upstream of Foxford. Another good spring Fishery which also has the benefit of having some deeper holding pools. All methods work at various times and water levels. Top methods are bubble and fly and spinning. Access to the upper end is reasonable but the banks are difficult on the lower end.
F.S.A Bakers Fishery: Also upstream of Foxford. Some well-known pools with deep holding water. Fishes well from March onward.  Top methods are Spin, worm and Prawn. Very reasonably priced.
Next week: The Foxford Shrimp