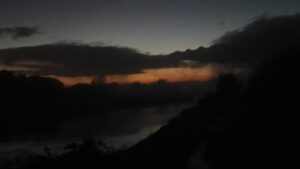 It looks like we are coming to the end of the cold snap, apart from the fact that some of the local roads were dangerous to drive on it has been a beautiful time. I stood alone on the riverbank on Wednesday night watching shooting stars and I could have been the only person in the world, there wasn't a sound, the moon reflected on the water and the frosted grass glistened. It was like I was standing in a scene from a Christmas card. No fish showing though, Id imagine they are busy on the spawning grounds.
Over the winter period there's a few things that I have promised people id write a bit about, things that are difficult to explain while serving in the shop.  Some of these things we have looked at before but not everyone has seen them, the first one is the Bubble and fly.  While I regularly recommend the method, more regularly I get asked How to fish the Bubble and fly. For those who are new to the method or for those who find they are not having the success they expect or see others having, have a read through the following you might just find something.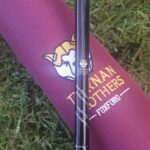 Bubble and Fly :
The bubble and fly is a method that I recommend on a regular basis throughout the season. It's a method that has certainly grown in popularity in recent years. I think there are a few reasons for this, the obvious one been that it is very productive. Another reason is that anglers like to use flies, the fly is seen as a sporting way to catch a fish. There are other reasons why the method is popular, its pretty easy to use, it visually exciting and anglers enjoy that, it's a relaxing way to fish and there's none of the issues of getting snagged in the bottom associated with spinning or worm fishing. I'm sure there are other reasons also.
 Where did it come from :
As I said before, it's extremely difficult to find out where or how this method originated. I have spoken to a few of the older Local anglers here on the Moy and none of them seem to know. However, from speaking to them I have come to the conclusion that it arrived on the Moy in Foxford sometime around the time of the drainage, mid 60s. By the time I started fishing in the early 70s Bubble and Fly was a standard method. The reason for its popularity on the Moy I think is largely due to the fact that a lot of the river is not suitable for the conventional fly rod. Steep banks, slow flow and vegetation, it's just easier to use the Bubble and Fly. I have had anglers who visit here tell me that it has now been adopted on their home rivers with great success also.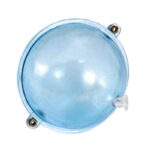 The method its self is simple :
Generally, two flies and a weighted bubble float cast across the river and retrieved slowly. The float of choice for many years has been the clear bubble float which can be weighted by adding water. Its available in different sizes which can be useful for varying conditions. A larger bubble on a windy day can make casting easier and if there's a good ripple on the water the fish don't seem to mind the splash as it lands on the water. The smaller bubble can be used for stealth in low water or in less breezy conditions. Ther are other styles of float available "Surface controllers", they weave their way across the surface, some anglers say this gives the fly more life and action. Its debatable and whether this makes a difference is difficult to say but I know a few good anglers who use them.
When should I use the Bubble and fly :
Like everything else it's possible to catch a fish in any conditions but for success it's always better to pick the right time or conditions to use the Bubble and fly. Ideally from once the water temperatures have come up a little in late spring, a nice breezy day and a medium to low level of water is best. I would never fish the Bubble and fly in water any deeper than 3m, with 1 to 2m been my preferred depths. The water does not need to be fast flowing but the ripple or wave on the surface is an important factor. A dull day is always better than a bright sunny one but in Sunny weather early morning and late evening can be very good times to fish the bubble and fly. My preference would be the late evening.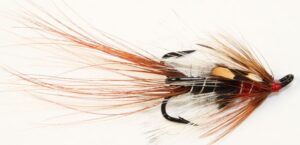 How :
One of the nice things about Bubble and fly is that even in unfamiliar territory one can be successful. You can quite easily cast all the way across the river and cover all the water. A slow retrieve is all that's needed but the fly Must "work" in the water. To cast a fly out and let it hang dead in the water been carried by the current is useless. I like to twitch my rod tip as I retrieve thus giving a pulsating action to the fly, some anglers raise and lower the rod tip as they retrieve. Do whatever you feel is giving "Life" to the fly.
The Take :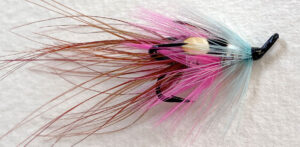 When a fish takes it is best not to make any big strikes. Normally the fish will leave its lie, turn on the fly and return to its lie. While the fish is turning and heading back down, all that is necessary is for the angler to tighten into the fish. In a lot of cases the fish is hooked before the angler realises anything is happening at all.  On other occasions the fish may come for the fly several times before been hooked. If this does happen to you, try different sizes of flies or try resting the fish for a little while. I've often turned a fish early in the day and went back later in the evening and caught it. Remember when playing a fish that it will most likely be lightly hooked, you are using fine line and there is a bubble and another fly trailing about after the fish as it runs, try to move the fish away from areas with rocks and bushes if possible. To avoid losing fish, change the leader regularly as it can become weak at the knots or kinked where the droppers twist around the main line.
The Rig (Known locally as "A Cast") "Tie me a Cast" :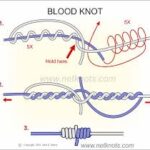 The bubble float or bait controller goes on the very end of the line, it is best to attach it to the line using a snap swivel. At a distance of approx. 1.5m away from the bubble (Towards the rod) we make a "Dropper" of approx. 15cm. There are many suitable knots for making a dropper. I personally use a blood knot as I have always found it to be reliable and I'm a believer in the "if it's not broken don't fix it" theory. Mess around with a few knots until you find one that you have faith in. A second dropper is added at another 1.5m from the first. This gives a combined leader length of 3m which is long enough and when using the 3.3m rod is still easy to cast. If the leader is longer than the rod casting becomes more difficult. If the rod you're using is short it is probably best to use only one fly and give a greater distance between the bubble and it.
Suitable Leader material :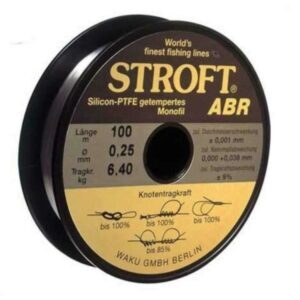 Most good Bubble and Fly anglers will use the same line for their main line and Leader. A well filled reel (it's a lot easier to cast with a well filled reel) of 0.25 to 0.30mm clear/translucent monofilament. The lighter and finer line been used in very low water conditions (July, August) the heavier been used in Spring time. A German brand "Stroft" is very popular on the Moy and Stroft ABR https://themoy.com/product-category/fishing-line/monofilament/ is our biggest selling line for Bubble and Fly.
Fly Patterns :
I'm not going to list patterns; everyone has their favourite and to go into detail is too much for this blog. However, the choice of fly pattern and size is dependent on conditions in general. I would say that if in doubt, ask someone for a suggestion. Anglers are normally happy to help each other and we are always available at the shop to give advice. A good rule of thumb is in early season or higher water conditions use larger patterns, size 8 or 10, as the season progresses and levels drop a little, drop down to 12 and 14s and in very low conditions 14s and 16s. Brighter colours earlier in the season and for fresh run fish, duller colours as the season progresses. On the Moy you can't really go wrong with Orange, Gold, Silver, Blue, Yellow and black.
That's it, it is pretty simple and I can guarantee you that everything you need to know about Bubble and fly is contained in this little article. Read it a couple of times and like I said last week, Think.