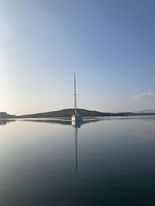 Good morning from a calm, cool and dry Foxford. My apologies for disappearing for two weeks. I had a little project to get a sail boat from the east coast of the UK to the west coast of Ireland and it turned out to be a big project, hence no blog. Anyway, im back and all is well, which is probably what the captain of the Evergreen said when he got home!
The first Salmon of the season was taken while i was away. It was caught by Mairt Devers on the Knockmore Anglers waters.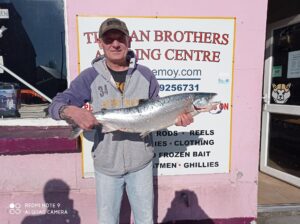 There's been another few taken since from various locations including East Mayo Anglers waters, Ballina salmon Anglers and the Ballyvarry River. Things are looking good, the river is in very nice condition and if anything is starting to get a little low further upstream (0.42m at Ballylahan ) . We have had more than two weeks of dry weather so I imagine we will soon get rain. From Esater onward there will be a real chance of taking a fish and I imagine Foxford will come to life then.  We will have the shop open for half day on Saturday (easing back into it ).