What a beautiful morning and what a beautiful week it has been. If this was a normal year things couldn't be better, lovely weather and the river in perfect condition. I stood looking at it this morning and i saw two salmon jump, most likely kelts still making their way back to the ocean but enough to stimulate that excitement an angler feels on seeing a fish on a fine spring morning. Things will return to normal but for now we must all do our part and as we are constantly hearing stay at home and don't make unnecessary journeys .
I've done another little bit on the Junior/beginner piece. Its a little more technical and it would be helpful if you could talk the novice through it. Its not rocket science either. The idea of making a simple fishing rod is just to give them a little project to pass the time and perhaps get them thinking and dreaming of better times to come, which is not a bad thing. I will hopefully make something simple during the next week and put up a short video. You take them for a short walk, find a suitable stick and create the dream.
Hi there 🙂 Had you a busy week ?
Spot any interesting flies or insects? I found something interesting. I was out walking and I found half of a little blue egg shell. I reckon a little bird hatched out of it, kinda cool I thought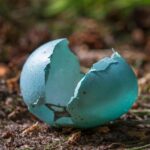 How was the worm digging? Did you manage to find some?  Try to keep them in a cool shady place and don't forget to put air holes in the lid and feed them every week.
I think we now need to look at the other equipment we will need
A fishing rod: There are lots of different types of fishing rods. We normally use Spinning rods or Fly rods. Spinning rods we use to fish with our worms and spinners and fly rods we use to fish with artificial flies. It easier to begin with spinning and worm fishing. We can progress to fly fishing later.
You will need a spinning rod. It doesn't have to be new or expensive and even a long straight stick will do for now. If you ask …………….. they may have an old spinning rod lying around that they will let you use or someone might help you build a rod .
The spinning rod is made up of four parts. The rod blank, the rod handle or butt, the reel seat and the rod eyes or guides. The rod blank is the long straight piece (the rod itself really) . The rod handle or butt is at the end and is the piece you hold. The reel seat is built into the butt and is where we attach our reel. The rod eyes or guides are spaced out along the rod blank and we run our fishing line through these.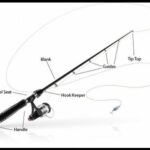 If your been clever and trying to build a rod, use a straight stick like a hazel stick which is not very thick or heavy. You could twist some wire to make guides and its easy enough to tape them on with some insulation tape. You could wrap some more tape around the end for the butt and it would also be ok to tape the reel in place. This will get you started and would be a good project.
The Reel: Again we have several types of reels and lots of different makes and models. You don't need anything expensive and for about 20 to 30 euro will buy a good one.  You don't need the reel yet; it will be another few weeks before you and ………………… are actually ready to get out fishing. We can still practice lots and once you have your fishing rod ready you can use something simple as a reel to practice casting (let me think about it )
We will be using a Fixed spool spinning reel. They are pretty basic and once you learn the different functions most of them are similar.
Here's how they work 
The reel is attached to your fishing rod.
The foot of the reel fits into the reel seat .
There's a handle for you to wind and it can be on the left or right side depending on which hand you prefer to use.
There's normally a brake (Anti reverse switch) which can be clicked on or off. When it's on, the handle cannot wind backward. When it's off, the handle can wind both forward and back.
The handle is attached to the body of the reel and inside this body all the gears and springs and washers are put together. We don't need to worry about what's inside and we should never loosen the screws just to have a look!.
On top of the body we have the head of the reel.
Attached to the head of the reel is the bail arm and line roller. The bail arm is the piece that catches the fishing line when we want to wind line on the spool. We pull the bail arm across when we want to release line.
The shaft of the reel runs through the center of the reel and the spool fits onto this. The spool is held in place by a special nut called the drag adjustment knob. This drag knob controls the tension on the spool. When it's loose the spool can rotate freely, as we tighten the drag knob the tension on the spool increases and it becomes more difficult to rotate the spool. We use the Drag when we are playing a fish, we can talk more about that next week.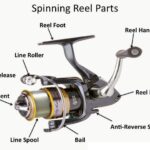 That might sound complicated but its not really. Look at the picture of the reel and you will be able to see what it looks like. See if you can learn the different parts.
Happy Easter, Chat soon 🙂 Michael