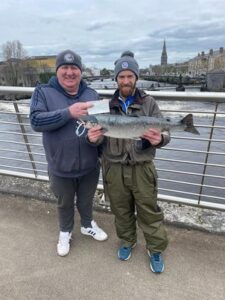 A cool dry morning in Foxford, we obviously are not getting the worst of this Orange weather alert but certainly not a morning to be on the river bank. The first salmon of the season was taken last Friday morning. It was caught by Nigel Lackey in Ballina and weighed 8lbs. Im pretty sure it didn't arrive alone so there's probably a few of them scattered throughout the system. From next weekend on we will start to see a few anglers appearing and catches should improve. The river is actually in very nice condition, this may change with the current weather but we won't know that for a few days yet.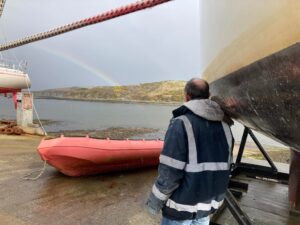 This time last year I was preparing to go to the UK to bring home a sailing boat. This year it's only twenty five miles away from my house and between bad weather and work I'm struggling to get a coat of Antifoul on it. Angling can be the same, when one must travel, plans are made and carefully executed but when its on the doorstep we let other things get in the way. I am sure there is a lesson in that…
We had our first Foxford Angling Club committee meeting of the year on Tuesday night, a relaxed little get together over a couple of pints in the back of Guirys pub. I can see these committee meetings becoming regular and well attended. We did manage to sort a few jobs and discuss some more plans for the season ahead. A few friendly competitions, a table quiz, some maintenance on the angling shelters on Lough Conn, "The Brook" project and I do believe a dinner dance was mentioned, I can see that one taking some planning!
The Brook project is slowly gaining momentum and I get the feeling more of the members are seeing some merit in the project. This makes me believe we can achieve something because there's some pretty intelligent guys in this little club. Put this intelligence behind the stubborn ones who are not prepared to take no as an answer from the people who are supposed to have "the statutory responsibility for the protection, development, and management of Ireland's 74,000 km of rivers and streams together with 128,000 lake hectares" and it is a powerful force. Our first letter is being drafted and I will as promised keep you up to speed on progress here.