Good morning from a cloudy Foxford, 8AM and the moon is still shining.  Looks like a showery day ahead. Another week forward in the lockdown and very very close to the start of the new Salmon season on the Moy. Although we all know it will be another while before we are on the banks for real it's nice to know its closer. I'm seeing kelts splashing about on a daily basis now and there's plenty of water to assist them on their return journey (1.9m at Ballylahan today). Hopefully a few make it back to the ocean. Last weekend I was out walking near Pontoon bridge and although the levels were still fairly high it looked very fishable.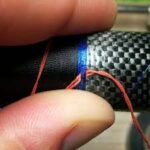 Some uncertainty as to whether we can actually start fishing or not, some clubs are saying its fine for members within the 5k guidelines but no one is certain. Some of us are even trying to run small businesses and make plans for the season ahead.  A little bit of clarity would be nice, perhaps IFI or some other Government body could make some sensible recommendations, no pressure lads we have until Monday!.
The next installment in the How to series is a short video on how to replace a spinning rod eye. This is one of the little jobs we get asked to do regularly during the fishing season. It's not a problem replacing a tip eye and we can do it in five minutes while the customer waits. The other eyes that need to be whipped on take time and it's certainly not a job we can take on during the season. Hopefully after watching the video you will be able to attempt the task yourself. It's not rocket science but as I said it takes time to do it neatly. Regarding the video, it's a learning curve and this week I've learned not to leave it until the last minute and not to try making a video while the cat is playing (watch to the end ). Anyway, I hope you watch the video (link below) and get something from it, if only a smile.