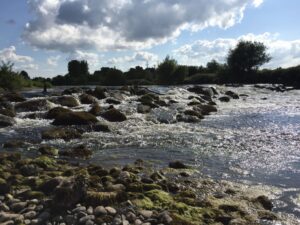 Another Salmon season comes to an end and I can say without doubt that for many reasons it was the most difficult one I have ever had to struggle through. Leaving aside personal and family difficulties it was the season from Hell. The season started off with bad weather and floods which lasted well into April. By the time levels fell the spring run had come and gone. Off course we do have to ask the question Did they come? No one can say for definite but catch reports were poor and speaking regularly to some good anglers they were not impressed by the numbers of fish they were seeing. As we got into May the weather picked up and we had "Summer" Blistering heat and no rain all the way through to the end of June. Water levels fell to all time low and water temperatures rose to dangerous levels. On the 8th of June IFI announced they were closing of the state fisheries in Mayo and Galway. At the end of June, the rain started, I remember a customer saying to me on July 15th that its St.Swithins day and if it rains on St. Swithins day it will rain for forty days. It did, and fifty something days later it was still raining. With the exception of an occasional day and perhaps a week in early September It rained all the way through to the end of the season. Of course, it did not just rain, we had gale force winds along with it.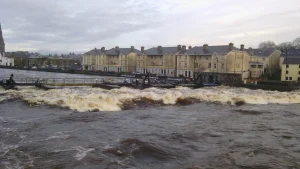 I could go on about haw difficult it was but there is no point, I know everyone will have their own theories, Global warming, Russian trawlers, El Niño. Let us just write it off and hope it was a blip. On a positive not the last two weeks of the season saw fish appear on fisheries where they had been very scarce throughout the season and with a few anglers on the banks fish were caught. I say it every year, spawning time will tell the true story of what the run was really like.
Winter and a lot of free time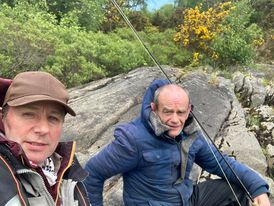 In May of this year, we closed the fresh side of our little business. Rising costs and a rapidly shrinking profit margin led two tired fish mongers to make a quick decision. It went something like this. It was a Monday and we were fishing for trout on Lough Cullin. (P.J) "Who's turn is it to go to Galway in the Morning. (Michael) Yours, I think. (P.J) Hmm, we are not actually making a lot of money selling fish. (Michael) No, we should close it up to F..ck. (P.J) Yeah (Michael) Right, im going to try dry flies for a while." There was no questions and no regrets (Yet anyway). It has given us some free time and time is worth more than money.
So, what are we going to do with this free time, not all fishing but there will be some. We will now have time to try new places, methods, and types of fishing when we want and when conditions suit. Our first outing was yesterday, along with two friends we headed to a mountain Lough. It was a miserable wet and windy morning. When we arrived, we could not see the mountain. I heard the question asked "should we have a compass out" "Would ya know how to use one was the reply" We trudged on through the wet bogs and faced the tough forty-minute hike up a pretty steep slope in the general direction of where we figured the Lough was. We got there and yes it was even windier on top. We fished for five hours, caught some trout, had lunch, a chat, a few laughs and made our way back down the hill, four happy men.
So, that is the general plan. I will report here as to how its going.