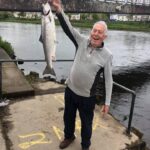 Good morning from Foxford. The weather has got a little cooler and we have had some rain in the past few days. There's very little angling activity on the Moy yet. Anglers fortunate enough to live within the 2k limits and who can walk to the river are permitted to fish for a short period as part of their daily exercise. One of these fortunate anglers is Peter McHugh who landed the first salmon of the season from Ballina Salmon anglers waters. A beautiful well made 11 pounder (see pic).
On a very positive note, while walking along the river bank a nice steady run of smolts  making their way to the ocean can be seen splashing about.
For the Junior/beginner section we have made a little video to demonstrate how to cast. Hopefully this will wet the appetites to get out and practice a little, see below with link to youtube
Hi again.
This week we have made a video showing how to cast. In the video I am fishing with a bubble and fly. This is a very good method and it is normally the method we start fly fishing with. While making the video I caught and released a little Brown Trout. See if you recognise it .
Here's a diagram of the knot we use to set up the rig for bubble and fly.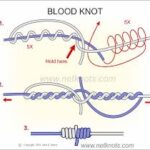 Its not very difficult but you and …………….. will need to practice it a little. Next week i will do a short video showing how to tie this knot and how to attach the bubble and flies.
If possible watch this video and then get out and practice casting  https://www.youtube.com/watch?v=M9GyXeppnng
Michael 🙂