Good morning from a cold Foxford. We have had a week of frost and with it some beautiful days. just back from a walk in the woods close to lough Cullin and its absolutely beautiful out there. As we all know the current travel restrictions are making it difficult to get out and about so fishing is difficult. We have not been able to visit the spawning streams either but I have been talking to some others who live close to the upper Moy and they have seen good numbers of fish. Kelts are already splashing around Foxford. It's early for this so hopefully that is a sign of good spawning. Less than a month now to the start of the new season on the Moy and while it will be a good while before fishing starts properly there are a few little jobs we can be doing to get prepared for the river bank. Reels can be serviced; a drop of oil never goes astray. Rods can be cleaned and damaged eyes replaced.
One of the most important tasks at the start of the new season and indeed it should be done a few times throughout the season is to spool our reels with fresh new line. It's amazing the amount of anglers who neglect to do this. In the shop we very often see reels worth hundreds of Euros half filled with "crap" line. It's not that these anglers who have spent  considerable amounts of money on Rods, reels and other equipment are to mean to replace old line, they just have not stopped to consider that fact that the line is the only connection between you and your prize fish!.  Another reason to change line is that over the course of the season we tend to cut or loose bits of line from our reels. This makes casting more difficult. A well filled (but not overflowing) spool is a lot easier to cast.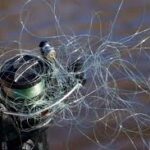 Mono or Braid: This is largely a personal choice. Overall I would prefer mono but that been said, last season I did a lot of fishing with a new braid (Berkley X9) and found it nice to use. Mono is less prone to tangle and can be used for all different methods. Transparent or clear monos are very popular for bubble and fly. Braid has a very fine diameter and is good for casting but again most good quality monos have a good diameter to breaking strain ratio. Braid will last longer than mono but it too has a life span and should be changed when it becomes worn.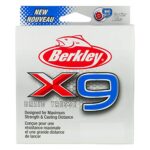 Characteristics of a good line: A good line is dependable and you can trust it will not have weak spots, it has a good breaking strain to diameter ratio, it casts well and does not kink and twist easily. It's fresh on the shelf and has not been in storage for years.
Best Brand: At this stage I think we all know that there are a few good brands of line on the market and a huge amount of rubbish. It's easy enough to work it out, if the line comes on a large spool and is very cheap there's a reason. These cheap bulk spools of line are a false economy.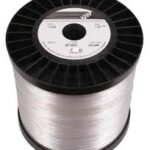 The line normally breaks easily, is easily kinked and there's little or no consistency, 10 meters can be fine and the next 10 meters are weak. Two of the best Monos that we sell are Maxima and Stroft.  Both are well tested and good. Maxima is thicker than Stroft but either will work.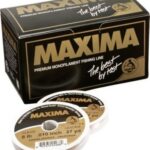 Causes of damage to line: Sunlight is probably the biggest cause of deterioration in a line. Try to avoid leaving your reel in exposed places for long periods. If storing spools of line, they should be kept in a dark place and away from heat. Damaged rod eyes or line rollers are the next biggest cause of damage to line. Check these regularly as a worn eye can destroy a complete roll of line in a very short time. Fishing in rocky areas is another cause of damage to line. If you are making contact with the occasional rock make sure to check for frayed patches of line and cut of any damaged sections.
Discard old line in a responsible manner. Cut it into small pieces and recycle it.  Never leave lengths of line along the water's edge. Birds can and do get tangled in it.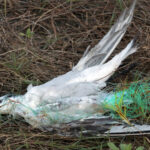 Remember: Don't be "The Gobshite", Leave no trace